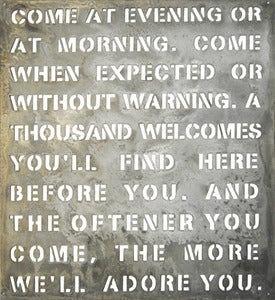 $

60.00
Here's the secret skinny on this one. Before we offered this in our shop, one of us found it for the other as a gift. We now carry it in our LoveFeast Shop. We think this is the perfect gift for yourself or your hostess friend. Do you know someone who has the gift of hospitality? Then this is the gift for them. We see it tied with a ribbon on a front door.

"Come At Evening Or At Morning. Come When Expected Or Without Warning. A Thousand Welcomes You'll Find Here Before You. And The Oftener You Come, The More We'll Adore You."
Metal sign 21" x 22 1/2"
***This item is on backorder and will not ship until January 1st, 2013. However, because of it's popularity you can still order to reserve - shipping not before 14 weeks.***