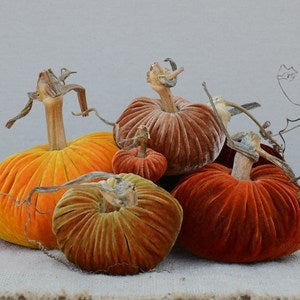 $

148.00
Autumn's colors are collected in this gorgeous set! The Velvet Plush Pumpkin Harvest large set of 6 pumpkins includes a 6" Carrot, 6" Saffron, 5" Bittersweet, 4" Curry, 4" Spice and 2" Apricot. Each pumpkin is finished with a natural, organic stem.
*Note: Due to low supply, 5" Bittersweet will be replaced with 5" Apricot.
Will ship in 1 - 2 weeks.